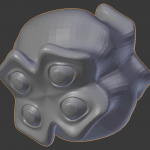 I've pushed some fresh updates to symmetrize. It should in general behave much better:
Normals are recalculated correctly.
Fixed cracks appearing along the axis of some meshes.
Fixed crash when operator is run from sculpt mode.
Axis and direction are now selectable when running the operator.
Improved memory management.
General code cleanups, main symmetrize code is now in blenkernel.
Note that this is still Mesh-only (not BMesh), so doesn't work for dynamic topology sculpting or edit mode yet.