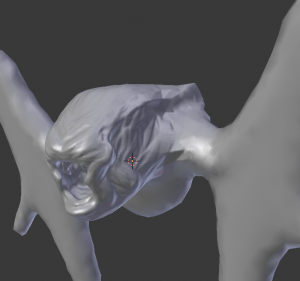 I've made a lot of updates to the dyntopo branch on Github during the past few days.
Some of the changes include:
Working smooth brush
VBO drawing (this is enabled regardless of the VBO setting in the user preferences)
Removal of loose vertices
Much more robust topological edits
Masks display correctly
Hiding works, still some bugs though
Builds with scons
A general outline of the work that yet remains:
Undo/redo
UI
Brushes that require original coordinates (grab & co.)
Stability fixes
Limit topological edits to the areas directly around the brush
Performance improvements
Surface relaxation (to fix blocky appearance after subdivision)
Surface merging (maybe as a separate brush?)
One side note: switching between sculpt and object mode is very unstable right now; when testing, recommend you switch in and out of sculpt mode from/to edit mode.